>> Articles

Tuesday, 27th October 2015
The Mobile Engineering Era
CAD software is hugely advanced. And with the advent of 3D modelling, which requires powerful processors, the widely held view remains that CAD is best experienced on high-end laptops or desktop computers. But, argues Russell Brook, Marketing Director EMEA for Siemens Project Lifecycle Management, just as mobile technology has changed the way we work, are entertained and communicate, it's now changing CAD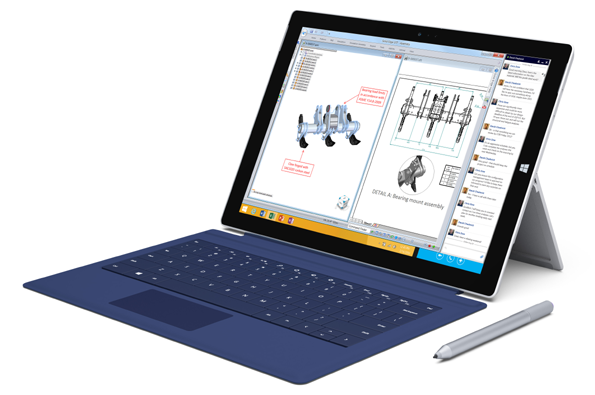 Advances to processing power, mobile device design and software interfaces mean that full CAD software can now be used anytime, anywhere. It's opening a new frontier – mobile engineering – that's helping design and engineering professionals be more efficient, productive and effective. The era of mobile CAD allows engineers be more innovative by seizing moments of inspiration while on the move to commence or amend designs. It also promises to enhance collaboration between design and manufacturing, and, supply chain partners, ease workflows to shorten product design cycles and improve customer service. In this article, David looks in more detail at what's driving mobile engineering, the applications it enables and the benefits it brings.
The move to mobile apps
In recent years there's been a growing appetite for apps that get CAD models for catalogue parts into the field. For example CADENAS offers its PARTsolutions software, which provides direct access to more than 600 certified standard parts catalogues on tablet devices with models in a variety of CAD formats. It makes it easier for engineering and maintenance teams to identify a part they need while working in a remote area of the factory, check if it's in stock and, if not, order it immediately.
Another engineering solution – JT2GO – that supports visualization of 3D CAD models using an ISO standard lightweight data format, is also available as a free app for tablet devices. JT2GO is already being used by many manufacturers to improve understanding of complex designs that incorporate CAD models from a variety of sources. Apps such as these are growing in popularity. And while research from IHS Technology shows that the majority (59%) of CAD users are working on desktops to annotate 3D CAD images, 20% are now using mobile apps to view their work remotely. We expect this figure to rise quickly in 2015 – growth that's driven by several trends.
Technology advances
Where mobile CAD design is concerned, technology is finally coming of age. It's been just over a decade since the first tablet computers were launched and the latest devices are now capable of running full CAD suites. Take the Microsoft Surface Pro 3™ (view the photo). This slim device is highly portable and powerful, offering a range of Intel® chips including the high-performance i5 and i7 processors that are recommended for data-heavy applications. And with a high-performance graphics card, and 12.1-inch screen, the tablet provides laptop-like performance. Aesthetically it's also a pleasing device that's easy to slip into a briefcase and appeals to the creative side of CAD professionals.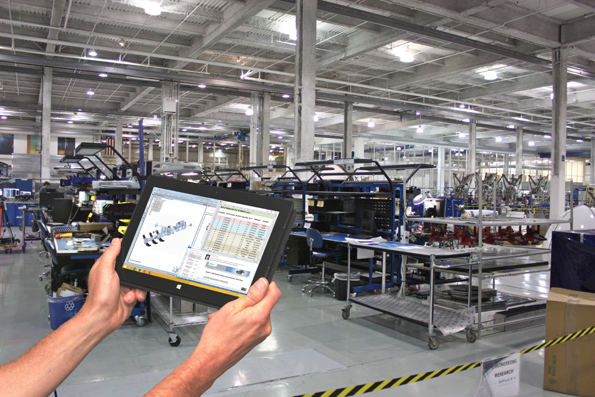 The anytime, anywhere CAD user...

The prospect of running fully functioning CAD suites on a compact mobile device has, in turn, triggered a new era of software innovation. Anticipating the move to mobile, CAD software engineers have been looking at ways to simplify and change software menus, workflows and key tasks to optimise them for use on the go. What's more, the interactive elements of tablet computers – including the touch screen, removable keyboard and styluses – present new ways to enhance CAD packages so that they are more instinctive and rewarding to use.
We believe that the availability of mobile CAD design will act as a catalyst for a significant shift towards mobile technology. Why? Simply put, because the technology is so usable and so useful, it promises to change the way designers work.
The anytime, anywhere CAD user
Based on our discussions with Solid Edge customers, we've identified a number of areas where we expect mobile CAD to change accepted ways of working. These changes and the associated benefits include:
• Powering productivity: Complete products – that include large assemblies and complex parts – can be designed, accessed and amended on the move. Travel time that's typically dead time can now be productively used to create, amend or review designs as if the user is sitting in the office. What's more, professionals who have a brain wave on the move can use the tablet to start a new sketch or make amends to existing models and drawings.
• Prototyping products: 3D modelling is a much more effective way to ensure that finished products are fit for purpose. With full access to 3D models on their tablet PCs in the field, CAD users who are visiting a customer site, and realise that a design tweak is needed, can make the change immediately – without having to travel back to their workstation. They can wire the file back to the workshop for prototyping, with the new part shipped to the customer site much more quickly. The process is more immediate and efficient. And it has the potential to save a significant amount of time and compress the prototyping life cycle.
• Improved collaboration: When working with supply chain partners, CAD designers can visit their factory with existing files and work with the partner to amend part drawings. This face-to-face collaboration will improve the iteration process to help accelerate the development of new components or amendments to existing parts.
• Inspiration on the fly: CAD operators often get their best ideas from speaking to shop floor teams. When they have their devices with them, they can call up schematics and 3D drawings to discuss how a design can be improved and make notes and minor changes on the fly.
• Improving the customer experience: Operators can review drawings with a customer and make any simple amendments they request there and then. The new model can be immediately validated using the simulation tool and the revised 3D model emailed to the customer for sign-off.
• Win business: When pitching for business, designers can stand out from the crowd by calling up their full CAD models. The detailed images are displayed in high definition and will encourage dialogue by allowing participants to interact with the designs and fully understand the thought that's gone in to the ideas.
The wait is over
While mobile technology has disrupted established business models across industries, it's only now that the vision of mobile CAD design is becoming reality. And while we're not predicting that workstations will be replaced, mobile technology will complement and improve existing ways of working.
Professionals who have a brain wave on the move can use the tablet to start a new sketch
or make amends to existing models and drawings...

One area that's especially interesting is prototyping where time is literally money. When a designer is with a customer, small changes can be made to CAD drawings on site and the file sent back to the factory for immediate production.. Such time savings, in what is necessarily an iterative process, will enhance efficiencies, reduce costs and, ultimately, get the finished product to market quicker.
While CAD will always be a thorough process, mobility promises to make it more agile and improve collaboration between designers, their customers, partners and the producing factories. In an industry where small improvements in processes, or designs, can result in big performance gains, mobile CAD is an important new phase in this technology's evolution, and one that will have a big impact on the product development process.